Why Hiring During Covid-19 period Is different from Previous Stratum?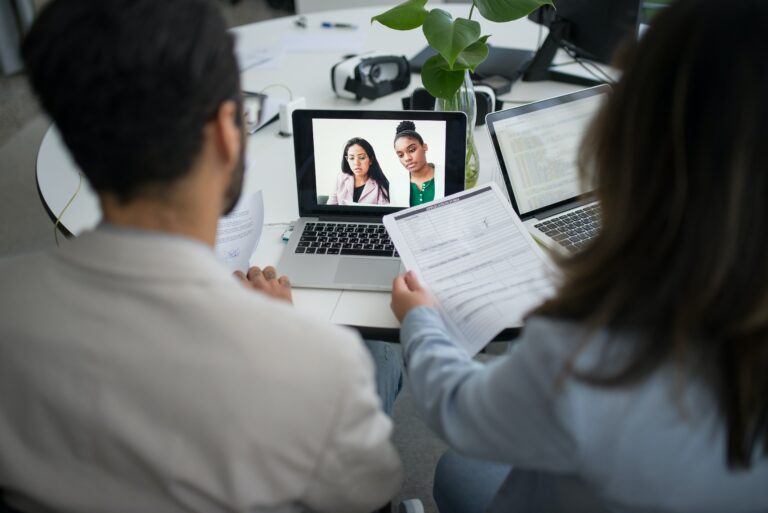 "Technology now allows people to connect anytime, anywhere, to anyone in the world, from almost any device. This is dramatically changing the way people work, facilitating 24/7 collaboration with colleagues who are dispersed across time zones, countries, and continents"
Amidst this new normal , the world is confronting vulnerability towards all paths. The economy is going downhill, enterprises are facing difficulties but enrollment is the same. This change has driven organizations to change their functioning techniques from manual to digitalization. 
How has technology played a major role amidst this pandemic?
Adjusting to this new normal was a difficult process, but it gradually became easier since the time platforms like Zoom, Google Meet and Microsoft Teams rose to the occasion.
It became much easier to collect employee responses through services like Google Forms. Platforms like HackerRank & HackerEarth came to aid when face to face interviews became practically impossible. As a large chunk of the population was already sitting at home, advertising for non-conventional techniques became really easy through social media platforms like Instagram and Youtube.
"Virtual selection" The new resort
Since social distancing is being strictly followed in both public and enrollment spaces, the in-person gatherings of the table are now directed distantly over Zoom, Skype, Telephone, and/or Video-conferencing. Many large-scale organizations have been following these methods for quite a while now. Presently, the most modest organizations far ahead of the bend have moved to video callings as an alternative method for the enrollment process.
These philosophies have proved to be much more efficient since many paramount chiefs, recruiting directors, and HR's are now more accessible given the current situation which has helped them clear their busy timetables and made it possible for them to have better interactions with the candidates. Virtual enrollment is now a go-to technique to continue the employment process, thus helping spotters and applicants.
Effects on various industries
There are many industries that had to halt the hiring process for various posts and a few even did downsizing. To name a few of them i.e. Airline industry, Mobility industry, Travel & Tourism industry, and many more. There were many reasons behind such a strong decision including market collapse, stricter government protocols, degrading economy, etc.
While job opportunities in many sectors almost came to nil, there were many areas which experienced a sudden rise in staffing requirements. Apart from the obvious one's like healthcare & pharmaceutical or essential goods industry, there were many others as well. Software engineering became one of the most demanding industries, to keep up with the whole world going online now. Entertainment industries took a sharp turn as well and experienced a good amount of growth.
What Future can be expected given the circumstances?
Virtual Interviews will continue even after the lockdown and travel restrictions are uplifted. First of all, and most importantly, the employee needs to be physically present at the site of the interview. This means that organizations now have access to the applicants coming from all over the world. It has reduced the traveling cost which many companies earlier had to reimburse to the applicants traveling from other regions. It has resulted in faster selection as well as cutshort the time consumption. Apart from virtual interviews, work from home might also continue even after the pandemic as it reduces the overhead cost of maintaining a big office space. Work from home is beneficial for the employee as it offers them flexible work timings, freedom from strict rules and regulations and from their monotonous routine.
The market is recovering at a steady pace. Therefore, you must know about the difficulties and begin to contemplate how you'll manage them. The people who plan for a scope of situations and embrace the mentality that "first-level sifting is the key" will be the most ideal to get an incredible ability in the upcoming years. With the new hiring pattern, one shouldn't let his/her values and morals get affected by it.
Subscribe to TechCurators to get premium quality assessment tools, for both online and offline evaluation.
"Changes aren't easy to cope up with, but once you adapt to these changes, you will emerge out to be a better version of yourself"